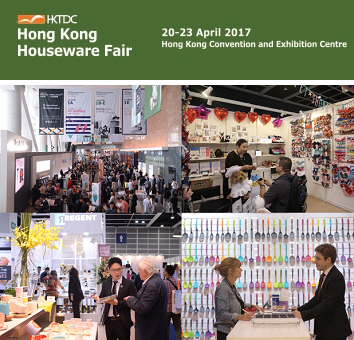 Venue Address: Hong Kong Convention and Exhibition Centre, 1 Harbour Road, Wanchai, HK
Oragniser: Hong Kong Trade Development Council
Official Website: HKTDC Houseware
Contact: Ms Carmen Wong
E-Mail: This email address is being protected from spambots. You need JavaScript enabled to view it.
Tel: (852) 2240 4606
Visitor Promotion Contact: Mr. Brian Wong
Email: This email address is being protected from spambots. You need JavaScript enabled to view it.
Tel: (852) 2240 4585
City: Hong Kong
Industry: Houseware
Date: 20-04-2017 ~ 23-04-2017
24 January 2017 – HKTDC Hong Kong Houseware Fair will run from 20 – 23 April 2017 at the Hong Kong Convention and Exhibition Centre for its 32nd edition. The fair will gather over 2,200 exhibitors, showcasing a wide range of quality household items from around the world.

The demand for housewares has been strong in Asia. According to Statista, one of the leading statistics companies, the revenue in the "Furniture & Homeware" segment worldwide amounts to over USD 115 billion in 2017, and is expected to grow by 12.4% annually. Over half of the revenue is generated in Asia (USD 58 billion), showing the abundant business opportunities of the industry in Asia. In 2016, over 28,000 buyers from 114 countries and regions passed through the doors for sourcing. As Asia's leading houseware event, the fair is an ideal one-stop trading platform for quality household items.
 
Wide-ranging Products under the LIFE Themes
This year, the Fair celebrates aspects of "LIFE" which stands for "Lifestyle", "Interiors", "Feast" and "Enrich".

Zones under the theme "Lifestyle" are the "Hall of Elegance", "World of Fine Dining", "World of Fine Décor", "World of Pet Supplies", "Green Living" and the new zones, "Coffee Alley" which offers coffee-related products like coffee makers, grinders and mugs; and "Designers' Furniture" which showcases designs from traditional crafts to contemporary designs.

"Interiors" features exhibitors of product zones like "interior Décor", "Festive Décor", "Best of ASEAN", as well as "Creative Arts & Cultural Craft".

"Feast" includes "Tableware", "Wine Tools & Accessories", "Kitchenware & Gadgets", "Home Appliances" and the new "HORECA zone" which features catering and decoration products related to the industry.

The "Enrich" theme is designated for the debut "World of Building & Hardware", as well as "Homepedia", "Baby Products", "Bath Beauty & Healthcare", "Home Cleaning & Laundry", "Storage Solutions", "Outdoor & Gardening" and "Furniture".

Design-led Merchandise Converge at Highlighted Zones
"Hall of Elegance" will present over 40 prestigious exhibitors including Berndes, bzyoo, Happycall, JIA, Kakiemon, Laica, PinJang, R2S, Thomson Pottery, Topchoice, and TVS. A broad range of designer collections will be on display to showcase innovation and top-notch craftsmanship.

"World of Fine Dining" will spotlight on the newest designs of tableware, kitchenware and bar accessories. Top brands include Wilmax from Hong Kong, KOKUBO from Japan, and Glasslock from Korea, etc.

"World of Fine Décor" will highlight premium home accents, furniture, artificial flowers, outdoor living and home tech. It is an ideal platform for designers to build their brands and to put their cutting-edge designs on display.

Launch of "World of Building and Hardware"
The debut "World of Building and Hardware" will showcase quality building materials, hardware & DIY tools, as well as sanitary ware. The dedicated platform aims to attract traders and interior designers who are looking for the latest items for interior projects and contract business.

"World of Pet Supplies" Returns
Catering to the growing popularity of pet-related products, the "World of Pet Supplies", offers a dynamic marketplace for sourcing from basic items to pampering products for all kind of pets. Exhibitors will showcase their trendy products and demonstrate their latest products through a series of pet supplies product demo.

Forthcoming Design Trends under Spotlight
One of the fair highlights will be the trend concept displays at the fairground. In collaboration with A+A Design Studio, a well-known Italian trend forecast agency for the first time, a wide spectrum of houseware and interior design elements will be on display to unveil the Spring/Summer18 design trends.

Concurrent Fair Creates Synergy
Held concurrently under one roof is the HKTDC Hong Kong International Home Textiles and Furnishings Fair. Sharing the same theme on household living, the twin fairs generate synergistic effect, enhance the fair experience of exhibitors and buyers, and thus offer expanded business opportunities.